Indian cricket witnessed a remarkable performance by Shreyas Iyer in the second ODI against Australia. Batting at the crucial No.3 position, Iyer scored a match-winning century that solidified his place in the Indian cricketing landscape. However, despite this impressive feat, the 28-year-old batter made it abundantly clear that no one can take the place of the iconic Virat Kohli in the Indian ODI side.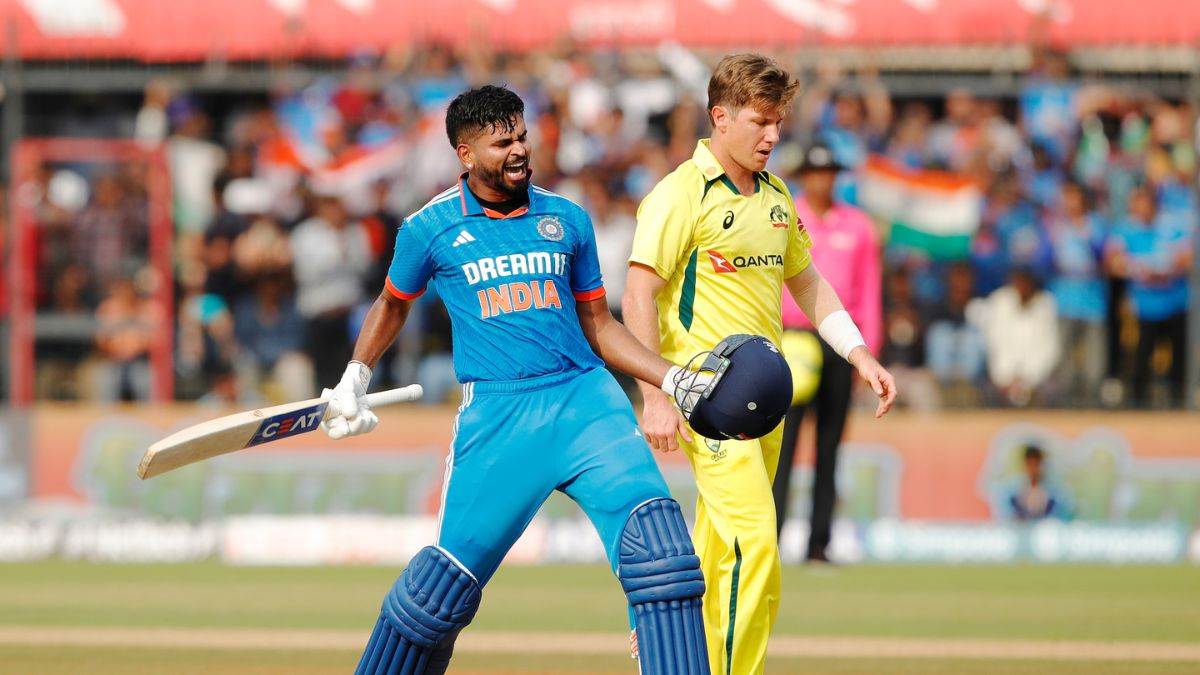 With regular captain Rohit Sharma and Virat Kohli rested for the first two ODIs against Australia, the Indian team had the opportunity to test its bench strength. Kohli's absence meant a reshuffling of the batting order, and Iyer was entrusted with the pivotal No.3 spot.
Virat Kohli, the modern-day cricketing legend, boasts a sensational record at No.3 in ODIs. He has consistently delivered remarkable performances in this position, amassing 10,906 runs, including 40 centuries, at an impressive average of 60.25 in 213 innings. Kohli's contributions have been instrumental in Team India's successes over the years.
After earning the Player of the Match award for his stunning century, Shreyas Iyer shared his thoughts during the post-match presentation. He expressed his relief at seeing his efforts translate into success and highlighted the importance of simplicity in his approach.
"It was a rollercoaster ride, feeling fantastic," Iyer said. "My team-mates, friends, and family were there for my support. I was watching the matches on TV, and I wanted to be out there and participate in the matches. I am grateful to believe in myself. When I went in to bat, I didn't want to complicate things. I wanted to get my eyes set, and that's how I give confidence to myself."
Also Read: 3 Players Who Can Replace Shardul Thakur in India's World Cup 2023 Squad
Known for his versatility, Iyer emphasized his willingness to bat at any position required by the team. However, he acknowledged the irreplaceable greatness of Virat Kohli and stated that there's "no chance of stealing that (number 3) spot from him."
Shreyas Iyer's remarkable performance in the second ODI included a well-crafted century that displayed his ability to anchor an innings effectively. He reached his third ODI century off just 85 deliveries, forming a formidable partnership of 200 runs with Shubman Gill for the second wicket.
Following Iyer and Gill's centuries, Suryakumar Yadav showcased his power-hitting prowess, remaining unbeaten on 72. India amassed a challenging total of 399 runs in their 50 overs. Despite Australia's best efforts, the tourists couldn't chase down the revised target of 317 runs in 33 overs due to rain interruptions. David Warner and Sean Abbott made half-centuries for Australia, but India secured a convincing 99-run victory and took an unassailable 2-0 lead in the three-game series.
As Indian cricket enthusiasts celebrate the team's success, Shreyas Iyer's remarkable century serves as a reminder of his talent and potential. His respect for Virat Kohli's legacy and his determination to contribute to Team India's victories are admirable qualities that reflect the spirit of the game. Cricket fans can eagerly anticipate the final ODI of the series, scheduled for September 27 in Rajkot, as Team India looks to continue its winning streak.