In a moment that touched the hearts of fans worldwide, cricket legend MS Dhoni was spotted carrying the revered Bhagavad Gita as he arrived in Mumbai ahead of his knee surgery. The image quickly went viral, capturing the attention of admirers who marveled at Dhoni's unwavering dedication.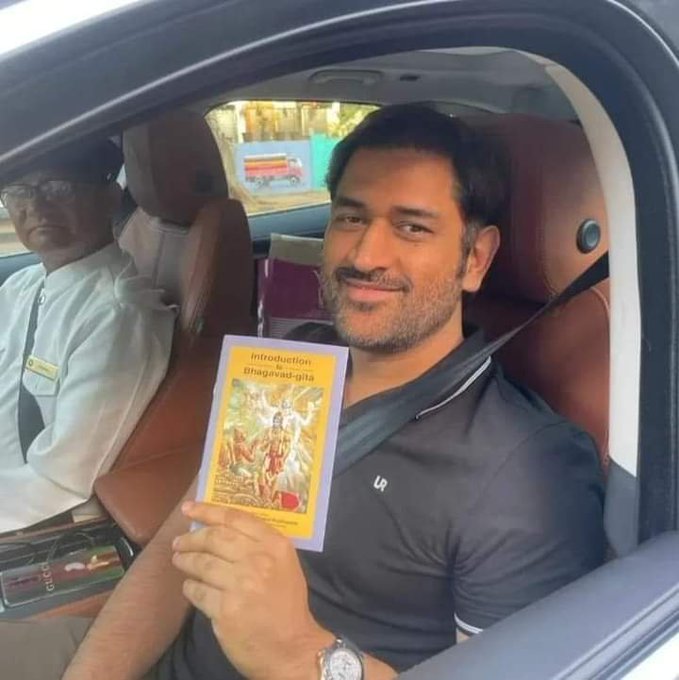 Throughout the Indian Premier League 2023, Dhoni showcased his exceptional leadership skills as captain of the Chennai Super Kings. Despite battling a persistent knee injury, the veteran cricketer selflessly played for the sake of his team, leading them to a historic fifth IPL title.
Also Read: Aakash Chopra Reveals the Mastermind behind Ravindra Jadeja's Sensational Success in IPL 2023
On Wednesday, Dhoni arrived in Mumbai to consult with a specialist regarding his knee injury. Reports indicate that he is scheduled to undergo surgery today. However, it was his choice to carry the Bhagavad Gita, a sacred text known for its profound teachings, that truly left an indelible mark on fans' hearts.
Dhoni's gesture exemplifies his unwavering spirit and determination, even in the face of adversity. As he prepares for his surgery, he draws strength from the timeless wisdom contained within the Bhagavad Gita, a testament to his profound faith and resilience.
After their glorious triumph with the Yellow Army, Dhoni expressed his desire to return for the upcoming season, citing the love and support he received from fans as a major motivating factor. Despite acknowledging the challenges his body may face, Dhoni remains committed to making a decision within the next 8-9 months, determined to grace the field once again in IPL 2024.
Fans around the world eagerly await Dhoni's recovery and eagerly anticipate witnessing his remarkable presence in future IPL seasons. His iconic image, carrying the Bhagavad Gita, serves as a reminder of his unwavering spirit, inspiring fans and aspiring cricketers alike to persevere in the face of obstacles and follow their passions with unwavering dedication.