South African cricketers Anrich Nortje and Sisanda Magala find themselves in a race against time to recover from injuries and secure their spots in the national squad for the ICC World Cup 2023, set to commence on October 5. Their chances of participating in the prestigious tournament hang in the balance, and their fitness will be assessed through upcoming tests.
Both Nortje and Magala had been named in South Africa's preliminary 15-member World Cup squad earlier this month. However, they have encountered injuries, limiting their participation in the recent five-match ODI series against Australia.
Anrich Nortje sustained a lower-back injury, while Sisanda Magala has been grappling with a left knee injury. The South African team management will make a final determination on their fitness for the World Cup before their departure for India on September 23. Although they are still in contention, the outlook appears uncertain.
South Africa's white-ball coach, Rob Walter, expressed concern about the situation, stating, "The fact that they weren't playing today with a week to go before we board the plane for the World Cup is obviously a cause for concern. We would have wanted them out there. There are complications around taking players that are injured into a World Cup because then you have to provide a medical reason to be swapped out."
Also Read: Atul Wassan Offers a Cautious Perspective on India's ICC World Cup 2023 Chances
Anrich Nortje's potential absence could be a significant setback for South Africa's World Cup aspirations. He is recognized as one of the world's premier fast bowlers and has substantial experience in Indian conditions, owing to his appearances in the IPL with the Delhi Capitals.
Magala's availability for the World Cup also remains in doubt. The pacer had been sidelined since early April after suffering a hand injury during the IPL. He later encountered a knee problem, leading to his absence from the T20I series against Australia. Magala briefly featured in the third ODI, but ongoing knee discomfort raised concerns.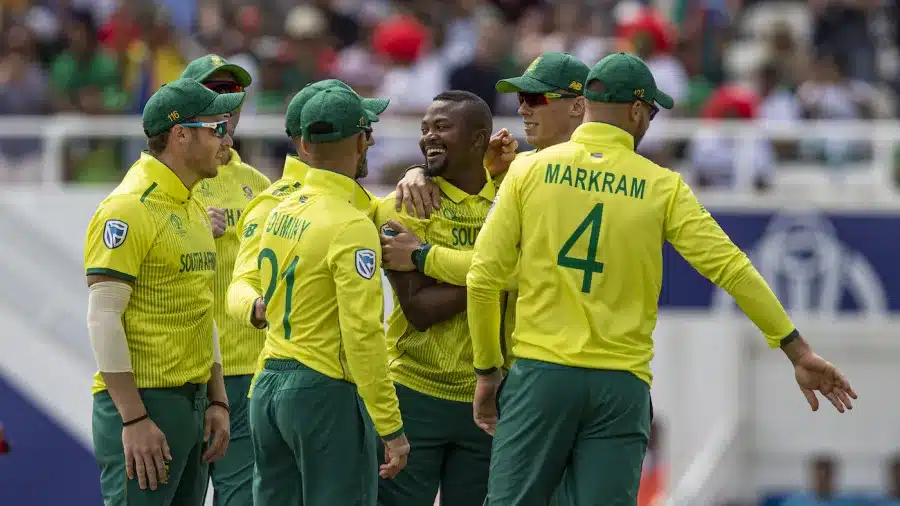 In light of Nortje and Magala's uncertain status, Andile Phehlukwayo emerges as a potential addition to the South African squad. Despite losing his national contract earlier in the year, the all-rounder showcased his capabilities in the second and fifth ODIs against Australia, making a significant impact with both bat and ball.